01. Increase Revenue
Putting the power to increase revenue in your hands
Promote services and upsell products simply and quickly to every guest, in every room, with the touch of a button.

In-Room Bookings
Guests can quickly and easily make reservations from the comfort of their room for your restaurants, spas and more.

Live Promotions
Promote your services, events, local attractions and more directly to every hotel room.

Repeat Customers
Guests can stay time and time again by offering room bookings in-room to increase repeat customers.
02. Reduce Operating Costs
Modernise your processes and reduce your hotels operating costs
With more competition and overheads higher than ever before, it has never been more important to reduce costs and improve staff efficiency.
Print less POS
Reduce POS costs and save time with in-room digital promotions.

Increase Staff Efficiency
Easy to clean and manage; our in-room tablet provides direct messaging to reception and therefore less queuing.

Remove The Phone
We offer guests a better way to connect with the hotel, and an easier way for hotels to manage guest requests.
03. Improve Guest Satisfaction
An experience they won't forget for all the right reasons
The only thing moving faster than technology is guest expectations! Our tablet provides a quick and easy gateway to everything your hotel has to offer.

Two-Way Communication
Connect your staff and your guests all the time, with direct two-way communication in every room.

Tailored Information
Easily update in-room information from the comfort of your office without the need for expensive print costs.

In-Room Dining & Services
Make the most of every guest with in-room dining and additional services; providing the best guest experience.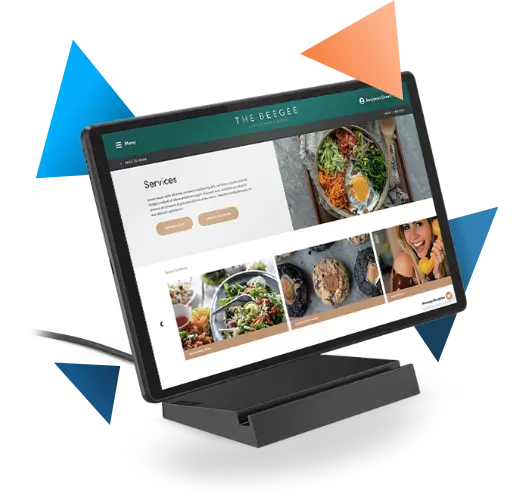 How to get started
Going Wireless, Easy as 1-2-3
Connecting with your guests is quick and easy with Wireless Rooms
Add your brand to the Portal
Add your branding, then you can start adding information, promotions & more.
Plug in & Dock your Tablet
Once installed add the tablet to your wireless network to connect to the cloud.
Set Up your Staff and Launch!
Your staff can log in & start accessing a wealth of tools and begin connecting with your guests.
Your Industry
Who we serve
We work with a whole range of businesses in the hospitality industry. Click below to find out how we can help you and your business.